Xiao Long Bao | Savory Turkey Chinese Soup Dumplings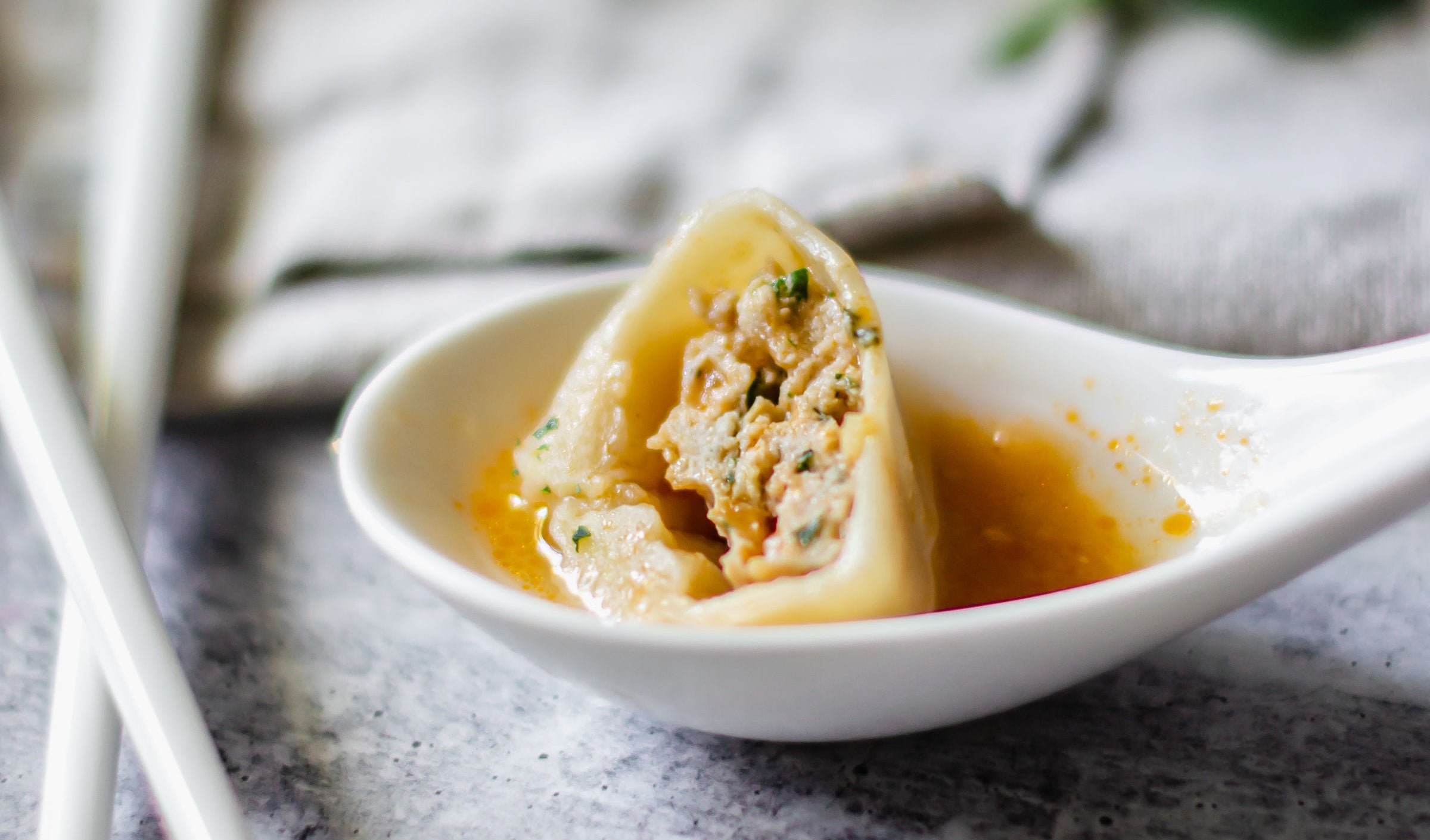 Soup dumplings are a delicate bite, best eaten straight out of the steamer, boasting a delicious meat filling and a flavorful broth. Further, a soft yet delightfully chewy dumpling dough encases the filling and broth, making dumplings ultimately, a comfort food. Soup dumplings are traditionally made with pork, but are versatile, and just as delicious with other meats, like turkey.

Here, we will explain step-by-step how to make our savory turkey soup dumpling recipe. These dumplings are packed with fresh ingredients like lemon, tomato, white wine, and with aromatic herbs and spices like parsley, thyme, garlic and cayenne. Our goal in creating this recipe is to make a filling that is bright and flavorful, but most importantly, a broth that shines and bursts with flavor when eaten. We are confident these dumplings will be enjoyed as they are in our kitchen, with friends and family.
Savory Turkey Soup Dumplings Recipe
Prep Time: 3 hours
Cook Time: 1 hour
Servings: 28 Dumplings
Ingredients 

Dough
1 ½ cups all-purpose flour
⅔ cup boiling water
2 tsp. vegetable oil
Soup
1 Tbsp butter
1 slice bacon, chopped into ½ inch pieces
½ onion, peeled and diced
1 clove garlic, minced or sliced thin
2 tsp tomato paste
2 Tbsp white wine
2 ¼ cup chicken broth
1 bay leaf
2-3 sprigs fresh thyme
½ tsp lemon juice
1 ½ tsp agar agar powder (included in our kit)

Filling
1 clove garlic, minced
¼ tsp ground black pepper
½ tsp salt
½ tsp Worcestershire sauce
½ tsp lemon juice
1 ½ tsp sugar
2 tsp olive oil
1 Tbsp white wine
1/8 tsp cayenne pepper
8 oz (¼ lb) ground turkey
1 Tbsp fresh parsley, minced

Step One: Make the Dough
Place flour in a medium bowl and use a spoon to create a deep well. Add oil and just-boiled water in the center of the well and mix with a fork until the dough is shaggy.

Continue to mix by hand inside the bowl until all the loose flour is pressed together into a ball.

Transfer to a clean surface and knead for 5 minutes. The dough should be smooth and stretchy like soft modeling clay. The dough will get more stretch as it rests.

Place dough into a zip lock bag, removing any excess air, and let it rest at room temperature for 1 hour.
Step Two: Make the Soup "Jewels"
Using a medium saucepan, melt the butter over medium heat until the bottom of the pan is evenly coated. Add bacon cooking and stirring frequently, until well-browned and fat is rendered, 3-4 minutes. Add onions to pan and cook until just starting to soften, scraping up any brown bits on bottom of the pan, about 3 minutes.

Add garlic and cook until fragrant, about 30 seconds. Add tomato paste and cook until darkened, about 1-2 minutes. Add wine and deglaze the pan, cooking until the liquid reduces by about half, about 1 minute.

Next, add chicken broth, bay leaf, thyme and bring to a boil. Reduce heat and simmer until broth is reduced by half, 7-10 minutes. Lastly, stir in lemon juice and remove from heat. Discard solids, salt to taste and let cool for 15 minutes.

Measure 1 ¾ cups of broth and return to sauce pan. Over medium-high heat, whisk in agar agar powder until fully dissolved. Bring to boil and remove from heat. Using a 9X13 dish, pour broth into dish and refrigerate for 20 minutes or until set. Carefully remove from dish using a rubber spatula or wooden paddle provided in kit. Cut into 1/8" cubes and place in a bowl. Refrigerate until used in filling.
Add all filling ingredients, except turkey, parsley and broth cubes, to a bowl and mix thoroughly. Add turkey and mix well until mixture is slightly sticky. Mix in solidified broth cubes and parsley. Set aside in fridge until ready to fill dumplings.
Step Four: Assemble the Dumplings
Remove dough from bag. The dough should be stretchy and when a finger is pushed into the dough, it should slowly spring back. Divide the dough in half, placing one half on a slightly floured surface and the other half back into the plastic bag.

Using both hands, roll the dough back and forth until it resembles a long narrow cylinder 14 inches long. Using a ruler, score the dough on the inch into 14 pieces. Once scored, cut the dough accordingly.

Taking one piece at a time, while covering the remaining pieces with a damp paper towel, roll out the dough into a circle until nice and thin, about 4" in diameter. Ideally the center will be slightly thicker than the edges. Rolling the dough thin is critical in creating pleats and achieving a good seal.

Place a heaping tablespoon of filling onto the rolled dough. Don't be shy with the filling as a nice plump dumpling is ideal.
How to Wrap a Soup Dumpling 
There are two ways to wrap a dumpling. One method involves holding the wrapper (with filling) in a slightly cupped hand, using both sets of index fingers and thumbs to pleat and pinch the rim to form a satchel.
Some may find it easier to leave the dumpling on the countertop and use their right hand, lift the dough with their middle finger and thumb, holding it steady over the filling. Then, using their left hand, bring up the next piece of dough, pleating it as it's lifted, and then secured with the right hand, which also holds the previous piece(s).
Be careful to keep the filling in the center of the wrapper, nudging it to the center as needed. Once all the dough is brought to the top of the dumpling, pinch and twist the top together, making sure it is sealed and secure. When both hands work together it becomes a symbiotic relationship, which helps achieve dumpling success.
Step Five: Steam the Dumplings
Place the bamboo steamer in a skillet or sauté pan larger than 8". Fill with about 2" of water.

Line the bamboo steamer trays with parchment liners and place the assembled dumplings in the steamer about ½" apart.

Steam each batch of dumplings over boiling water on medium-high heat. We have found that 10 minutes is the sweet spot in our kitchen. Once steamed, enjoy straight from the steamer, being careful not to get scalded by the hot soup inside.
Enjoying the Dumplings
When eaten a soup dumpling has the perfect trifecta of flavors—a delightful soft chew from the cooked dough, a savory flavorful filling, and a hot burst of liquid soup, which, in my opinion, is the best part.
Whether you eat the dumpling in one bite, or drain the broth slurping it first and then eating the rest, there is no right way to eat a soup dumpling. We hope you enjoy this recipe and be sure to pin below to save for later!
Leave a comment