9 Spice Organization Tips That Will Make You Love Cooking Again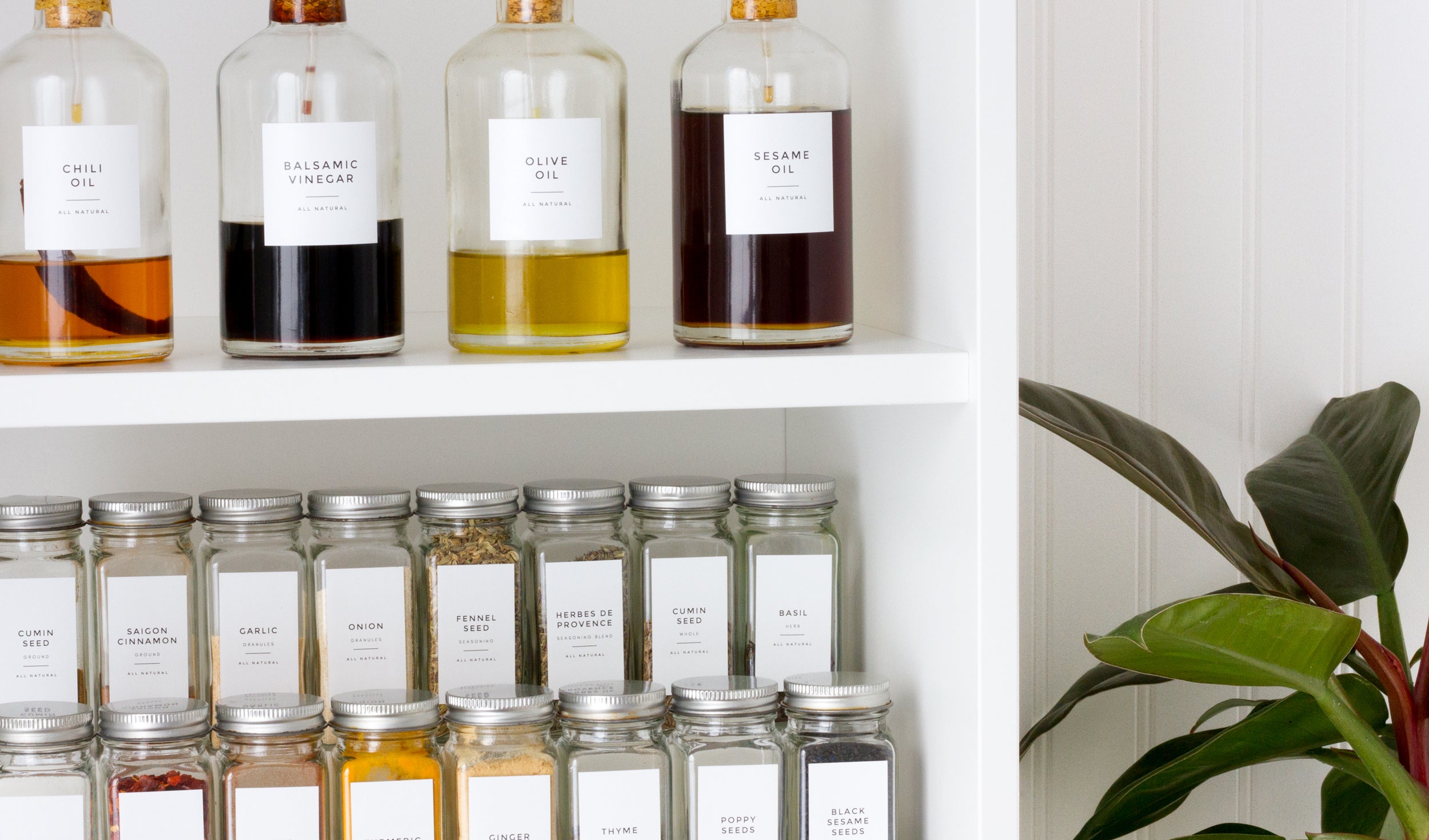 The holidays are a special time. There's nothing quite like gathering together with those you love most in the world. Many of us have precious memories of spending time in the kitchen with grandparents and parents, cooking the family's favorite dishes. Maybe you're passing these same traditions on to your own children or grandchildren now, sharing the secrets of each delicious recipe.
For many, this joyous occasion comes and goes too quickly. It's a brand-new year. The holidays are over, and your family is gone. Along with the fond memories, you have one looming problem to contend with: the fact that your kitchen pantry is a disaster. Yikes.
Nothing leads to pantry chaos quite like holiday cooking. With everything in disarray, finding the spark you need for your next foray into the kitchen can feel impossible. Whenever we hit a cooking roadblock, we clean and reset. It always clears the brain for creativity. 
Here, we'll share nine ideas to organize the spices in your pantry that will actually inspire you to cook.
1. Remove Distracting Brand Labels and Rebottle
Sure, branded spice jars look pretty when they're organized on store shelves with other jars wearing similar labels. However, there's a good chance that you don't buy all your spices from the same company. You likely have several different brands in your pantry with different colored labels, jar sizes, shapes, and lids. 
All of the different forms and styles create visual clutter. When too many visual stimuli compete with your brain for attention, you may become distracted, which impedes creativity.
Ivanka Siolkowsky, a Certified Master of the KonMari Method, recommends eliminating this "word pollution" from your pantry. Doing so makes it easier to find what you're looking for, helps you remain focused, and frees up your brain power for better creativity.
2. Have a Range of Larger Spice Jars
Don't limit your spice arsenal to what you can fit into a standard size jar. You don't necessarily need the same amount of cloves as you do cinnamon or ginger. Why use the same size container for each one? 
Instead, choose a range of jars in small, medium, and large sizes ahead of time so that you always have the right jar for the right spice. We're fond of these jars from the Container Store.
3. Choose Affordable Jars That You Can Buy Again in the Future to Keep It Consistent
A cook's pantry is always evolving and the key to organization is consistency. The biggest mistake is to commit to jars that are so expensive it requires a big investment when your pantry expands and you need to buy more. 
Likewise, that set of adorable vintage jars or containers you found at the flea market isn't a great fit because finding more could prove impossible. 
Instead, choose jars that are beautiful but also easy to purchase at any time. Here are some of our favorites:
4. Use Smudge-Free Labels
Printing labels at home is a great way to get exactly the label you need when you need it. However, all the effort put in to lovingly attaching custom labels can quickly go to waste if you use the wrong paper. 
Don't make a rookie DIY mistake when it comes to printing your own spice jar labels. Instead, be sure to use food-safe, waterproof for your spices. They're easy to clean — which is a major plus in our books — and they'll last.
In fact, we've wrote up a short step-by-step post on the exact labels to buy and included 140 FREE Printable Spice Labels here.
Don't feel like printing your own labels? We get all of our labels from this shop. You can customized exactly the spices you need in a variety of smudge proof label sizes.
Another tip to keep in mind: Chalk pen might look pretty, but it's far from practical. As soon as you touch the jar with a wet or greasy hand, the writing becomes unreadable. Nothing disrupts a creative cooking groove like pausing to figure out if the jar you've grabbed is salt, sugar, or baking soda. 
Whether you're making your grandmother's prized cookie recipe, your favorite pasta dish, or a new recipe you've been dying to try, you want to be sure you're grabbing the right container every time.
5. Consider Your Kitchen Flow and Keep Spices on Hand
What is kitchen flow, you ask? Kitchen flow is strategically laying out your tools, products, and ingredients in a way that makes your cooking routine seamless. 
When it comes to spices, Henry & Higby critiques that, "Storing ingredients you cook with regularly (think olive oil, oregano, and kosher salt) far away from your stove is a silly way to add extra time to meal prep. Speed up your daily cooking routine by putting oils and spices somewhere sensible – AKA actually near the stove." 
For more information on kitchen flow, check out this article from Pure Wow.
6. Arrange Your Spices with Those Used Most Often in Front
Perhaps you use cinnamon only when the leaves change, but use garlic powder almost daily. Arrange your spices according to your cooking habits so they're easy to access and you're not always reaching towards the back for something you use frequently. 
On the other hand, are there some spices sitting at the back of your pantry collecting dust because you hardly use them? Are they still good? Consider retiring those and replacing them with a new, exciting spice that you want to try.
7. Pick a Layout That Inspires You
You should always be able to see all of your spices at once. Investing in a rack or other organizer can make finding the spice you need much simpler.  If you're looking for organization inspiration, here are some of our favorites: 
8. Keep Measuring Spoons Nearby
How many times has a recipe called for a teaspoon of this or that? Instead of stashing them with the rest of your utensils, hang your measuring spoons on the inside of the cabinet or strategically place them somewhere spice-adjacent to maximize your flow.
9. Introduce a Few New Spices to Spark Creativity
Sometimes, the key to feeling creative again is not looking at the same boring ingredients you've always had. Here are a few new spices to consider that we love having in our kitchen:
Loomi (dried, aged lime): This spice can be shaved for a delicious roasted lime flavor, or stuffed into poultry as an inspired alternative to fresh lemons. It comes from the Middle East and is often used in chicken, seafood, soups, and stews. Check out this

chicken and black limes recipe

.

Black Garlic (fermented garlic): If you love garlic, this is an awesome, new flavor to experience. It's slightly sweeter and milder than fresh, raw garlic. Try blending it with mayo to spread on a burger bun, or adding a few cloves to your next batch of macaroni and cheese. Or, try this

creamy fennel and black garlic pasta

.

Cardamom: Ready to take your cinnamon rolls to the next level? Try a dash of cardamom! It has a slightly spicy flavor, but is also sweet with unique hints of lemon and mint. Also this

Brown Butter-Cardamom Banana Bread

might change your life. 

Garam Masala: This spice blend is commonly used in Indian cuisine, such as curries and soups. It's a mix of whole spices — cinnamon, mace, peppercorns, cumin seeds, coriander seeds, and cardamom — that are toasted in a pan and ground into a powder. You can use it in a wide array of dishes from meat and fish to lentils and vegetables.
Smoked Salt: Sea salt flakes that have been infused with smoke from real, untreated wood can add interest to any dish. The type of wood impacts the flavor, which can range from subtle to bold. We have some hickory-smoked sea salt in our wood-smoked barbecue set.
Love Cooking Again
Sometimes, a little organization is all you need to unblock those creative juices, allowing them to flow freely once again. Following these tips can help get you back on track and let you start to love cooking again.
Have you found some new and clever ways to store your spices that help inspire your creativity? Feel free to share what works for you along with some of your favorite spices (and how you use them) in the comments. We love hearing from you!
3 comments
Love all of these! A couple questions…
Do you have the larger labels for the oils? And what spice shelf did you use for the original picture??
Hey Nancy! Those bottles are from World Market. They can be found here: https://www.worldmarket.com/product/glass+oil+bottle+with+gold+stopper.do
Kim from Cooking Gift Set Co.
January 29, 2021
Great ideas, thanks! Where do the oil/vinegar bottles come from??
Nancy K Gruber
January 29, 2021
Leave a comment