Xiao Long Bao | Chicken Curry Chinese Soup Dumplings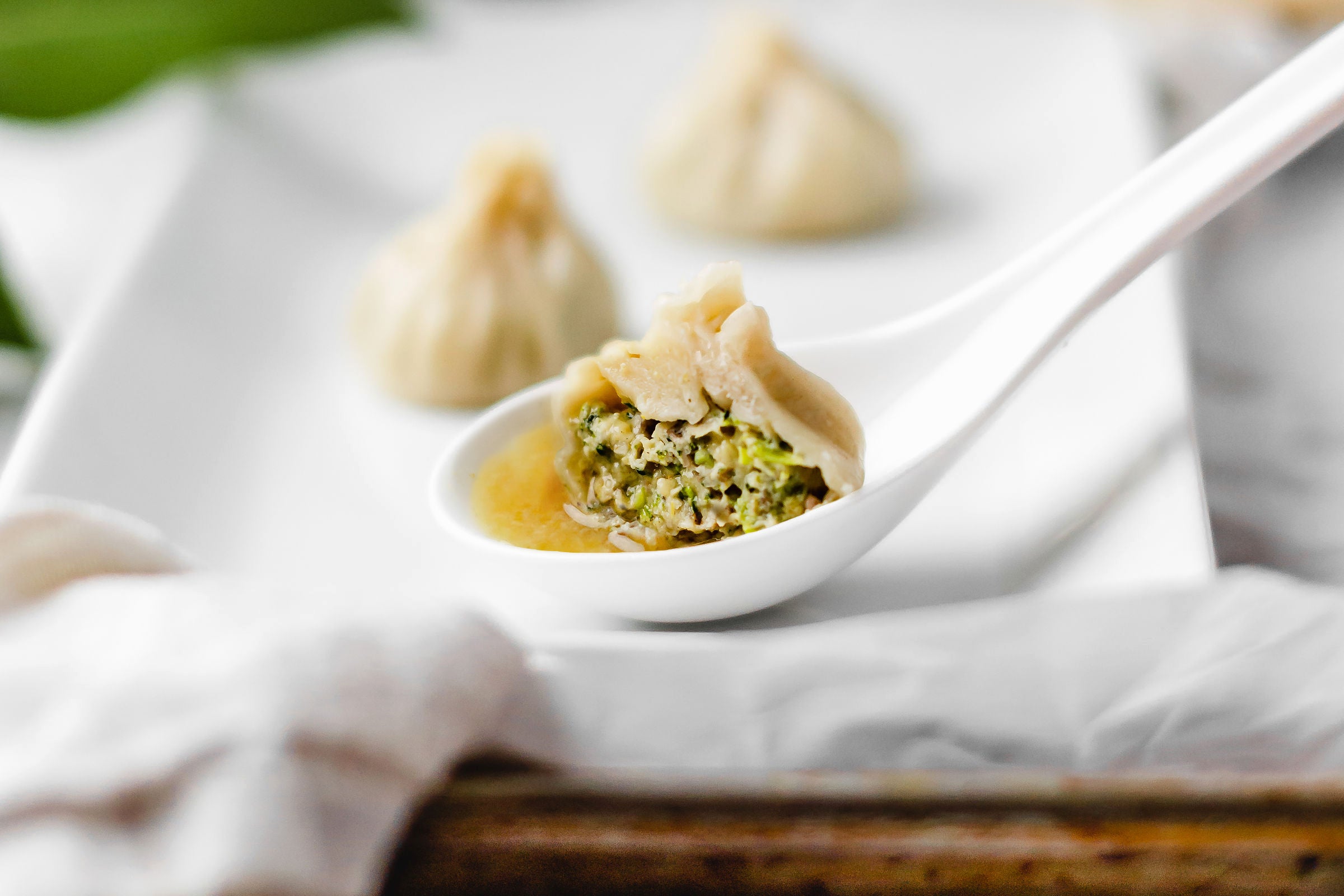 When it comes to Chinese soup dumplings, the flavor possibilities are endless. This is exactly why dumplings are particularly fun and special to make. Traditionally made with pork, a fattier meat, it serves as a plump and satisfying dish. But what about other meats? For example, ground chicken, which is leaner and healthier, but sometimes harder to bring alive with flavor.
That was just the challenge needed to spark the idea for our chicken curry soup dumplings. Now don't be mistaken, this isn't a Thai dish, and it isn't trying to be. Instead, it's a dish that boasts warm curry notes that don't overpower, a touch of coconut cream for richness, fresh thyme, garlic, and as usual, a splash of white wine to make the broth sing. This broth is delicious enough to sip alone or throw over some cooked ramen noodles—it's that good.
For the filling, finely chopped broccoli and mushrooms are roasted, adding another layer of flavor. They are then added to the ground chicken with fresh chives and a pop of lemon—a great compliment to the broth. The best part? You wouldn't guess the filling was ground chicken. Even better? It's a leaner and healthier meat reinforced by many ingredients that nourish both mind and body.
Below is a step-by-step description on how to make these Chicken Curry Chinese Soup Dumplings successfully. Grab your steamer and let's get to work!
Chicken Curry Xiao Long Bao Recipe
Prep Time: 3 hours
Cook Time: 1 hour
Servings: 28 Dumplings
Ingredients 

Dough
1 ½ cups all-purpose flour
⅔ cup boiling water
2 tsp. vegetable oil
Soup
2 Tbsp. coconut cream*
1 slice bacon
½ onion, chopped
1 clove garlic, sliced
2 tsp. curry powder
2 Tbsp. white wine
3 sprigs fresh thyme
2 ¼ cups chicken broth
1 ½ tsp. agar agar (included in our Chinese Soup Dumpling kit)
*Coconut cream is found at the top of a can of coconut milk. Carefully scrape the coconut cream from the top of the can into a small bowl and measure as indicated.
Filling
8 oz ground chicken
¾ cup broccoli, minced
1 cup mushroom, minced
2 tsp. olive oil
¼ tsp. black pepper
½ tsp. salt
1 garlic clove, minced
½ tsp. lemon juice
1 Tbsp. chives, minced
Step One: Make the Dough
Create a well in the center of the flour. Pour the boiling water and vegetable oil into the well. 
Stir the flour and water mixture until it starts to come together and then press the dough into a ball. Knead the dough for 5 minutes. If the dough is particularly sticky add a pinch or two of flour, and continue to knead until the dough is workable and has a bit of stretch and pliability. The dough will get more stretch as it rests.
Place dough into a zip lock bag, removing any excess air, and let it rest at room temperature for 1 hour.
Step Two: Make the Soup
Using a medium saucepan, melt the coconut cream over medium heat until the bottom of the pan is evenly coated, and coconut cream begins to bubble. Add bacon cooking and stirring frequently, until fat is rendered, about 3-4 minutes. Add onions to pan and cook until just starting to soften, scraping up any brown bits on bottom of the pan, about 3 minutes.
Add garlic and cook until fragrant, about 30 seconds. Add curry powder and stir until all the ingredients are evenly coated. Add wine and deglaze the pan, cooking until the liquid reduces by about half, about 1 minute.
Next, add chicken broth and thyme, and bring to a boil. Lower heat and simmer until broth reduces, 5-8 minutes. Discard solids and salt to taste.
Measure 1 ¾ cup broth and return to sauce pan. Over medium-high heat, whisk in agar agar powder until fully dissolved. Bring to boil and remove from heat. Using a 9X13 dish, pour broth into dish and refrigerate for 20 minutes or until set. Carefully remove from dish using a rubber spatula or wooden paddle provided in kit. Cut into 1/8 inch cubes and place in a bowl. Refrigerate until used in filling.
Step Three: Mix the Filling
Preheat oven to 425 degrees F. Toss the broccoli and mushrooms in olive oil, pepper and ¼ tsp of salt. Using a rimmed baking sheet, evenly distribute the vegetable mixture in a thin layer and roast for 10-12 minutes. Watch the vegetables closely as every oven cooks differently.
Add all filling ingredients, except chicken and broth cubes, to a bowl and mix thoroughly. Add in chicken and mix well until mixture is slightly sticky.
Mix in solidified broth cubes. Set aside in fridge until ready to fill dumplings.
Step Four: Assemble the Dumplings
Remove dough from bag. The dough should be stretchy and when a finger is pushed into the dough, it should slowly spring back. Divide the dough in half, placing one half on a slightly floured surface and the other half back into the plastic bag.

Using both hands, roll the dough back and forth until it resembles a long narrow cylinder 14 inches long. Using a ruler, score the dough on the inch into fourteen pieces. Once scored, cut the dough accordingly.

Taking one piece at a time, while covering the remaining pieces with a damp paper towel, roll out the dough into a circle until nice and thin, about 4" in diameter. Ideally the center will be slightly thicker than the edges. Rolling the dough thin is critical in creating pleats and achieving a good seal.

Place a heaping tablespoon of filling onto the rolled dough. Don't be shy with the filling as a nice plump dumpling is ideal.
How to Wrap a Soup Dumpling 
There are two ways to wrap a xiao long bao dumpling. One method involves holding the wrapper (with filling) in a slightly cupped hand, using both sets of index fingers and thumbs to pleat and pinch the rim to form a satchel.
Some may find it easier to leave the dumpling on the countertop and use their right hand, lift the dough with their middle finger and thumb, holding it steady over the filling. Then, using their left hand, bring up the next piece of dough, pleating it as it's lifted, and then secured with the right hand, which also holds the previous piece(s).
Be careful to keep the filling in the center of the wrapper, nudging it to the center as needed. Once all the dough is brought to the top of the dumpling, pinch and twist the top together, making sure it is sealed and secure. When both hands work together it becomes a symbiotic relationship, which helps achieve dumpling success.
Place finished dumplings on a parchment lined baking sheet until ready to steam.
Step Five: Steam the Dumplings
Line the bamboo steamer with parchment paper rounds so the dumplings don't stick. Place in a skillet or sauté pan larger than 8". Fill with about 2" of water.

Place the assembled dumplings in the steamer about ½" apart. Steam each batch of dumplings over boiling water for 10 minutes. Once steamed, enjoy straight from the steamer, being careful not to get scalded by the hot soup inside.
Slurp, sip, and enjoy!
Whether you eat the dumpling in one bite, or drain the broth slurping it first and then eating the rest, there is no right way to eat a soup dumpling. We hope you enjoyed this xiao long bao recipe and be sure to pin below to save for later!
Leave a comment