Modern Minimalist: 140 Free Printable Spice Jar Labels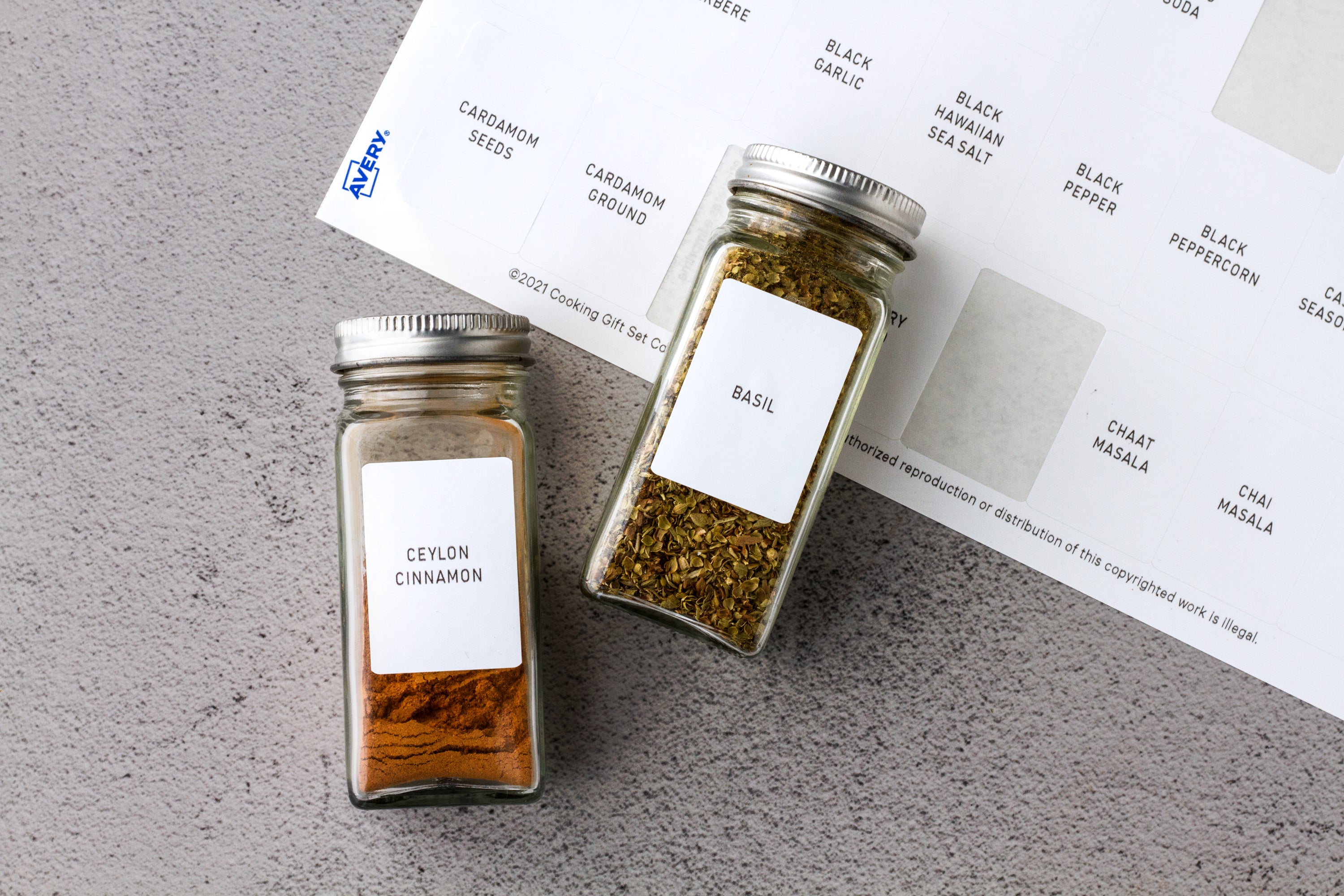 You've probably been there — obsessively scrolling through Pinterest as you pin beautifully organized pantries. There's something immensely satisfying about seeing perfectly organized spice jars with clean, matching labels. It instantly sparks inspiration and makes you want to create something similar in your own kitchen. 
We've got some excellent news: We've done the work for you and created gorgeous, clean spice bottle labels in a minimalist style that you can print at home.
Spice Jar Labels for a Clean, Minimalistic Modern Aesthetic
You know how hard it can be to find spice labels that you love. You can spend hours searching and come up with nothing. If you do find a set you like, it might be missing labels for some of the spices in your pantry. Or you might have to pay before you can download and print them. 
At Cooking Gift Set Co., design is a big part of what we do. You'll see the attention we put into every detail of our cooking kits that we design for fellow home chefs. Everything we create is designed with you in mind. 
We've created minimalistic modern labels to help keep your spices neat, uniform, and organized. Their clean design fits with every aesthetic, so you'll have a Pinterest-worthy spice cabinet at your fingertips. 
We tested out the best print-at-home labels, taking into consideration factors such as durability, stain-resistance, and size. After putting different labels to the test, we found that Avery® UltraDuty Film was the best paper to use. Not only is it easy to clean, but you can use it with a standard inkjet at-home printer. Our files come in two convenient sizes, and each one contains 140 spices in alphabetical order. 
The process is easy:
Choose the label size: 1.25 x 1.75" or 1 x 1" in UltraDuty White Film.
Print at home:

Do not scale or move artwork. We recommended you test by printing on a plain piece of paper first.
Make Your Spice Organization Dreams Come True
We designed these minimalistic modern spice jar labels for you, and we hope you love them as much as we do. Check out our post on spice organization tips for additional advice and tricks. 
Spices don't just add flavor. They can also add inspiration for new flavors on a whim. You might even start testing out new recipes you never imagined you'd cook before. We want to know what inspires you — in the comments below, tell us your favorite spice that you use ALL the time. 
1 comment
Can you tell me what font this is? I have some seasonings that aren't on your list :(
Leave a comment