The Best Tarte Au Citron (Lemon Meringue Tart)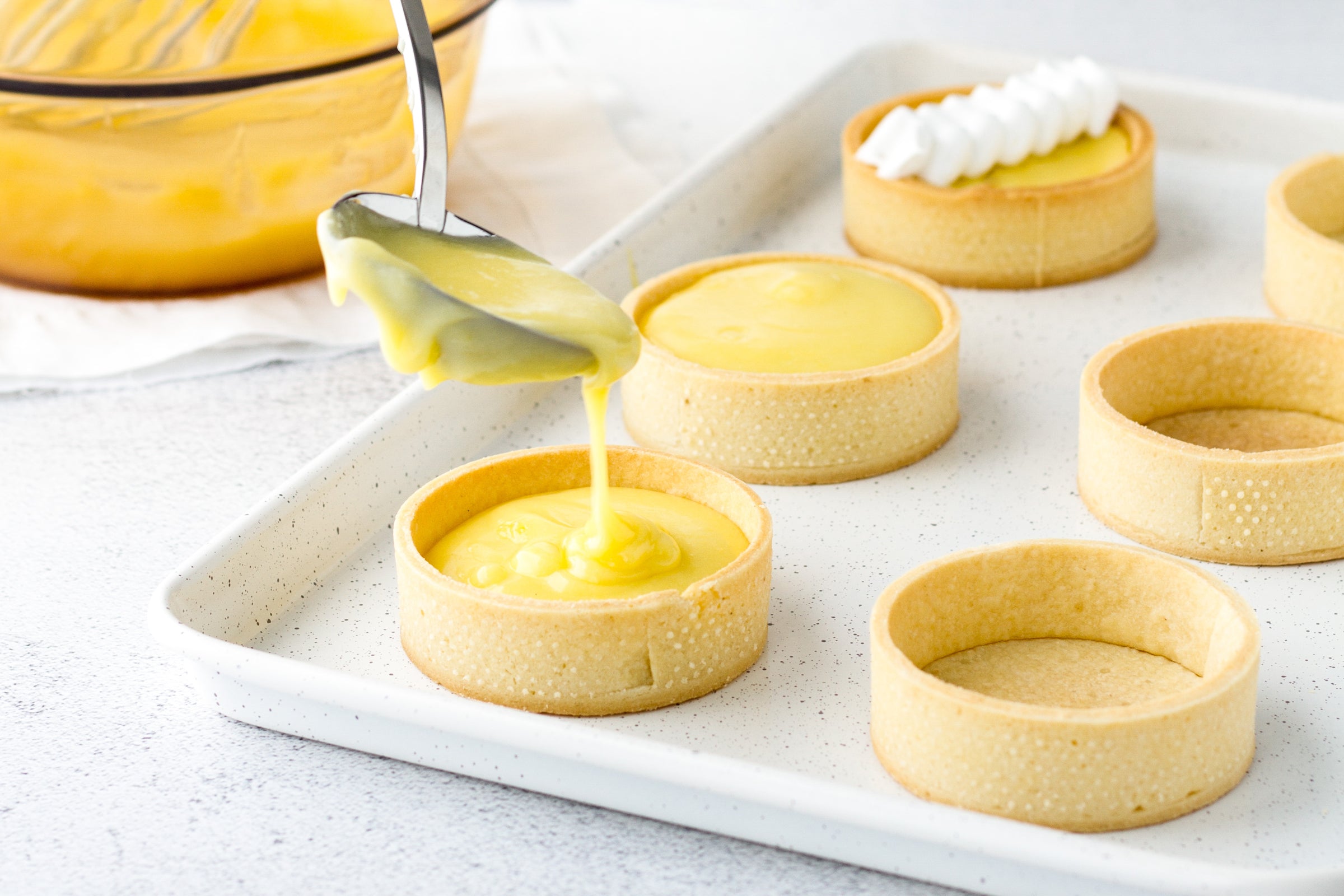 A tarte au citron — a French lemon tart by any other name — is a symphony of taste and texture. From the moment the sharp citrus scent of the curd meets the smell of just-baked buttery pastry, you're transported from your kitchen to a sunny lemon orchard in Provence.
‌
Lemon curd first appeared in Britain during the nineteenth century, but it was France that refined the lemon tart into the ubiquitous confection it is today. During the nineteenth century, the French monarchs often demanded that their chefs serve them these desserts. We don't blame them — a perfect tarte au citron is truly ambrosia.
‌
We spent hours in our test kitchen, perfecting this lemon meringue tart recipe. We may have spent more time than was strictly necessary, but we were determined to achieve the ideal blend of luscious and tart, making sure that the filling hit the right balance between sweet, sour, and butter. (And there really isn't much incentive to stop making lemon tarts.)
‌
You'll need to start with a batch of tart shells. Don't worry — with the right recipe and tools, flawless pastry is in reach (see our favorite tart crust recipe.)
‌
While the baked shells cool, you can turn to your lemon curd. This isn't the time to multitask. The curd requires constant whisking after you combine the ingredients in a double boiler (or heat-safe bowl set over a medium pot). You'll leave the butter until the end, whisking it in for an absolutely velvety texture.


Lemon Meringue Tart Recipe
Lemon Curd Ingredients
½ cup fresh lemon juice (3-4 lemons)
⅔ cup granulated sugar  
¼ tsp. salt
2 eggs (room temp) 
4 egg yolks (room temp)
8 Tbsp. unsalted butter, cold, cubed
If you don't have a double boiler, you'll need a medium pot and a heat-safe bowl that fits snugly on top. Fill the pot with a few inches of water and bring to boil.
Combine all curd ingredients EXCEPT the butter in the heat-safe bowl before placing on top of the pot. This keeps the eggs from cooking separately and developing curds. Reduce the heat to a simmer and whisk continuously for 10 minutes.
Tip: If curds do appear, don't panic. Simply filter the mixture through a fine mesh sieve before the next step.  

Whisk in butter cubes until melted. Place a candy thermometer on the bowl and continue whisking for 5 minutes or until the mixture has reached 175˚ F.  If you don't have a candy thermometer you can always eyeball it - the curd is ready when it reaches a yogurt-like consistency like the photo below.
Pour into tart shells immediately while still warm. As the curds cools it will stiffen.
Italian Meringue Recipe
There are three types of meringue, but Italian meringue is the most stable. We found that it will keep its form for a full 24-48 hours after being piped onto a tart. Temperature is absolutely crucial when it comes to meringue, which is why we include a candy thermometer in our French tart baking kit. 
Meringue Ingredients
1 ⅓ cup granulated sugar
⅓ cup water
4 egg whites, reserved (room temp)
Equipment 
Candy thermometer (included in kit)
Slide and adjust a candy thermometer to fit a small saucepan, ensuring the tip isn't touching the bottom. Add sugar and water and place on stovetop over high heat. 
Meanwhile, whisk egg whites on low speed with an electric hand mixer or stand mixer. Make sure the bowl and beater are completely grease and moisture free.
On the stovetop, the sugar and water should be boiling. Be patient and wait until the mixture reaches 250˚ F on the candy thermometer.  The exact temperature is important. 

At this point, the egg whites should look like a thick foamy bubble bath. While still mixing, slowly begin to spoon the hot sugar syrup into the bowl 1 tablespoon at a time. Whisk on high speed for a full 6-8 minutes until the mixture cools and reaches a consistency of old-fashioned shaving cream.
Enjoy Buttery Lemon Perfection
We hope you enjoy this lemon meringue tart fit for royalty. Why not invite some close friends over for a spring brunch or summer picnic? Pour a little champagne, toast to your success, and savor the melt-in-your-mouth, lemony perfection.
Leave a comment