Masala Chai Custard Tart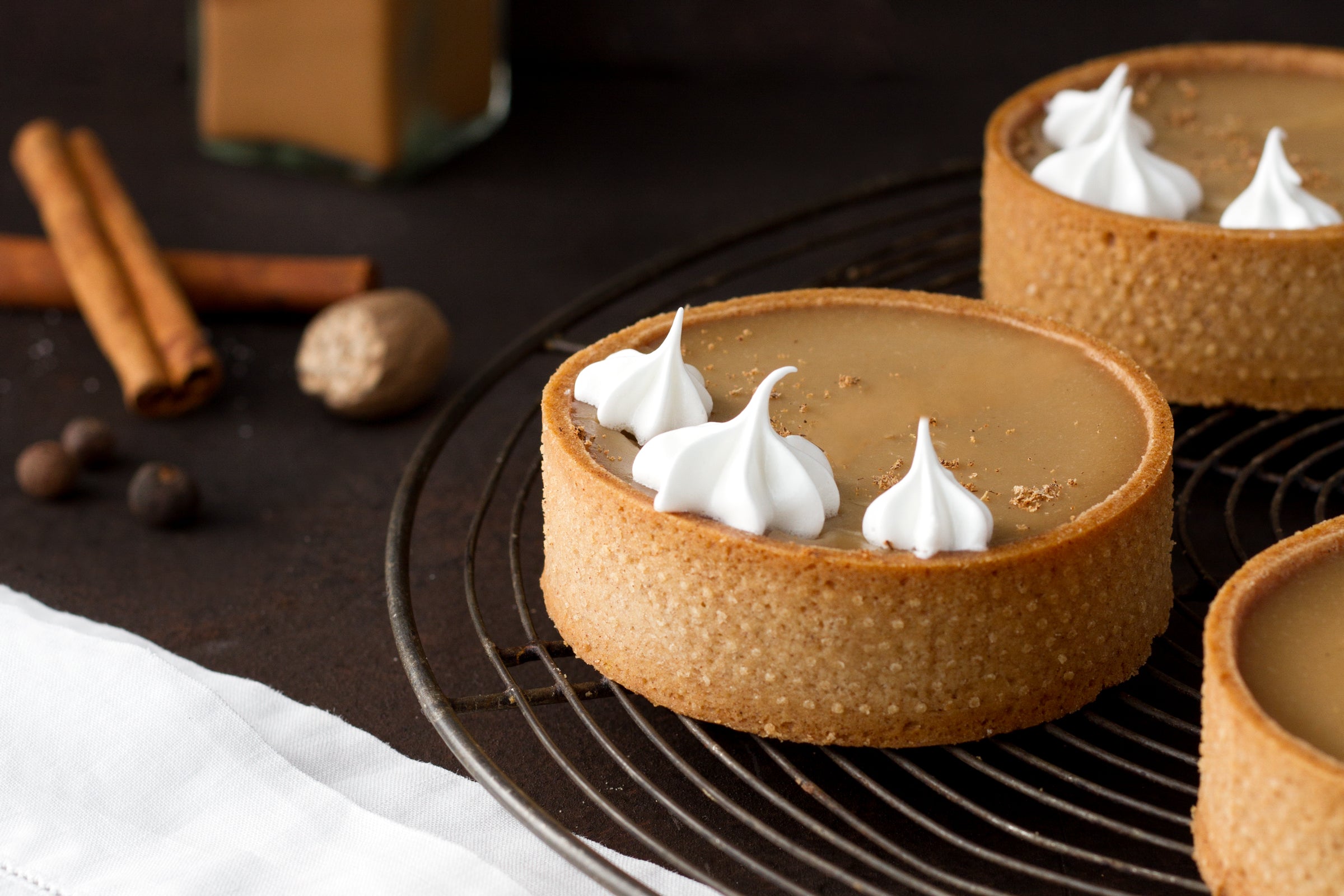 Nothing says "Fall" like the delicious blend of spices in a soothing cup of masala chai. The precise proportions of this classic Indian spice mix are up to the individual but typically rely on a warming mix of ginger, cardamom, cinnamon, cloves, nutmeg, and black pepper. I use coconut milk when I make mine, which gives it a rich and creamy texture. It was this combination of creamy texture and warming flavors that made me want to capture those qualities in a tart.
Like many of you, I've been doing a lot more baking over the past year, and have started to get a bit more ambitious in my flavor combinations. With travel off the table, memories of a past trip to Paris reminded me of the perfect-looking tarts lined up in all the patisserie windows. My love of chai and the those beautiful tarts all came together in this recipe for my masala chai custard tart. 
French tarts can seem intimidating to make, especially for a group. Our French Tart Kits come with perforated baking rings, allowing you to recreate the exact look of the tarts in a French patisserie. They also include pie weights for perfect blind-baked crusts and step-by-step illustrated directions to streamline your baking. 
Masala Chai Custard Tart Recipe
Servings: 6 Tartlets 
Cinnamon Tart Crust
12 Tbsp. unsalted butter, cold, cubed
1 ¼ cup powdered sugar
½ tsp. salt
1 tsp. vanilla extract
4 egg yolks (reserve whites for meringue)
2 ¼ cups all purpose flour
3 Tbsp. ground cinnamon
You'll need to start with a batch of six cinnamon tart shells. Don't worry — we'll walk you through exactly how to make a tart crust like a French pastry chef in our detailed post here. This is the longest part of the process and can be made the day before.


Chai Custard Ingredients
2 cups whole milk
4 masala chai tea bags (or 4 Tbsp. loose leaf tea)*
2 Tbsp. flour
4 tsp. cornstarch
½ cup sugar
½ tsp. salt
2 eggs
½ tsp. vanilla
6 Tbsp. butter
*If you don't have masala chai, consider making your own. All you'll need is some black tea and whole spices.
In a small sauce pot, combine the milk and tea bags and bring to a boil. Once boiling, turn off heat and steep for 5 minutes. Discard tea bags and allow to cool.
If you don't have a double boiler, you'll need a medium pot and a heat-safe bowl that fits snugly on top. Fill pot with a few inches of water and bring to boil. Combine all custard ingredients EXCEPT the butter in the heat-safe bowl before placing on top of the pot. Reduce heat to a simmer and whisk continuously for 5-8 minutes.
Whisk in butter cubes until melted. Fill cinnamon tart shells immediately.
Italian Meringue Recipe
Meringue Ingredients
1 ⅓ cup granulated sugar
⅓ cup water
4 egg whites, reserved (room temp)
Equipment 
Candy thermometer (included in kit)
Piping bag & favorite nozzle (included in kit)
Slide and adjust a candy thermometer to fit a small saucepan, ensuring the tip isn't touching the bottom. Add sugar and water and place on stovetop over high heat. 
Meanwhile, whisk egg whites on low speed with an electric hand mixer or stand mixer. Make sure the bowl and beater are completely grease and moisture free.
On the stovetop, the sugar and water should be boiling. Be patient and wait until the mixture reaches 250˚ F on the candy thermometer.  The exact temperature is important. 

At this point, the egg whites should look like a thick foamy bubble bath. While still mixing, slowly begin to spoon the hot sugar syrup into the bowl 1 tablespoon at a time. Whisk on high speed for a full 6-8 minutes until the mixture cools and reaches a consistency of old-fashioned shaving cream. 
‌
Leave a comment