Maple Red Mulled Wine Recipe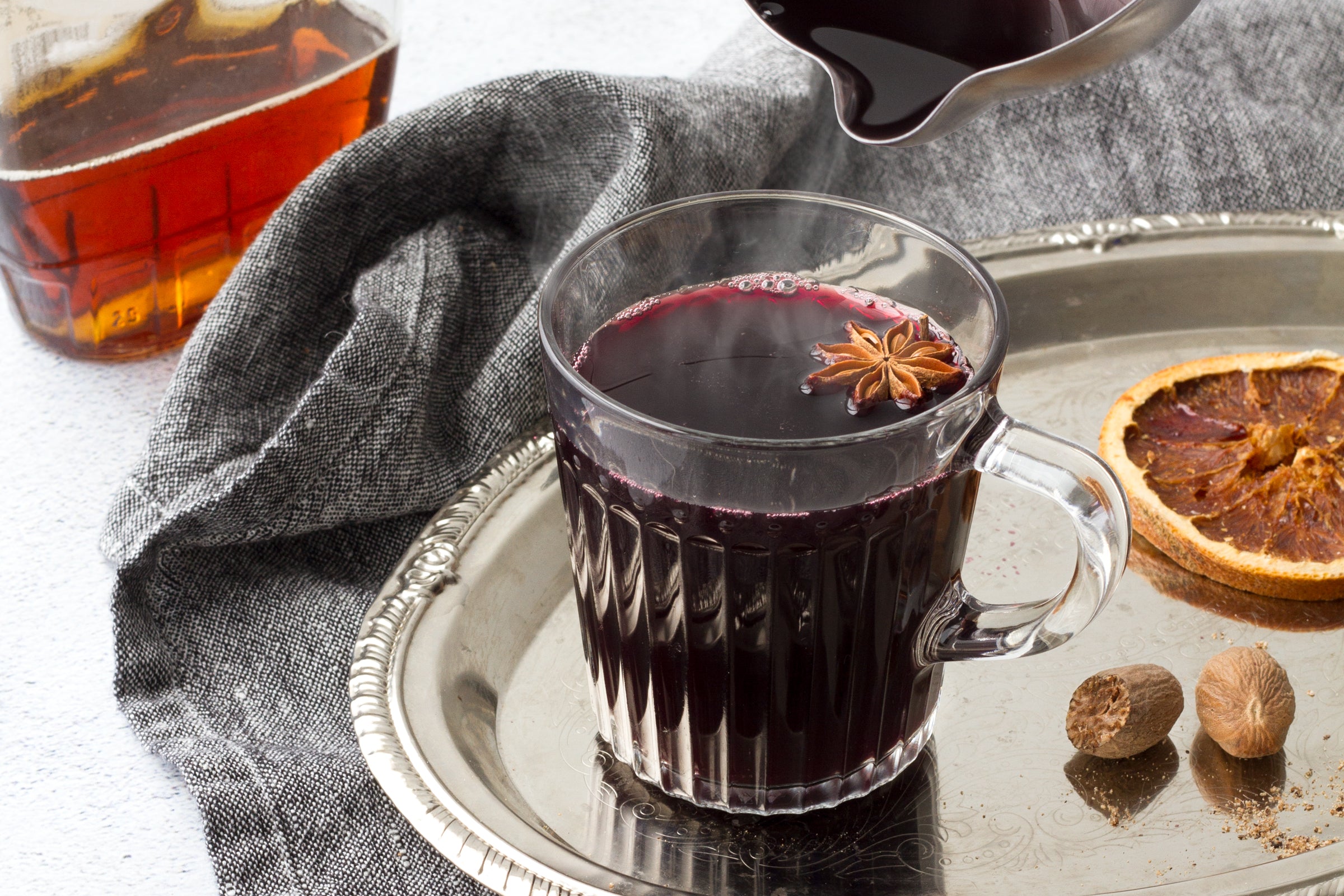 Mulled wine, known as gluhwein in Germany, glögg in Sweden, and vin chaud in France, is the juggernaut beverage of chilly weather. This warm, comforting drink is aromatic, versatile, and surprisingly easy to whip up on your own, especially if you have a handy mulled wine kit on deck. 
This no-fuss cocktail is a no-brainer for delighting your friends and family during holiday parties and gatherings. It's also excellent for warming the bones on cold winter days, crisp fall evenings, and even those chillier spring nights. 
Finding the Best Sweetener
When dreaming up this spice-infused formula, we tinkered with tons of combinations, as well as several sweeteners — white sugar, maple syrup, honey, and brown sugar — to strike the perfect balance of sweet and spicy.  
‌While white sugar was good, it fell a little flat. Honey packed in so much flavor, it overtook the spices. And though brown sugar is great in a pinch, maple syrup ticks all the right boxes. Its characteristically caramel-like flavor with roasted and nutty overtones was a match made in heaven with the spices in this recipe. 
Choosing the Wine
‌When selecting your red wine, lean toward full-bodied varietals so the flavor will withstand the heat you're about to put it through. You can't go wrong with a merlot, zinfandel, shiraz, or cabernet sauvignon.
Something with a fruit-driven profile will play nicely with your spices. And don't worry about getting top-tier vino, as the piquant qualities of your spice medley will be the stars of the show here. 
This is one of those times when going cheaper is just fine. Since wine reduces down when cooked and you'll be serving up more than you typically would with s typical 4oz pour, there's no need to get fancy. 
Selecting Whole Spices
Whole spices allow you to infuse fresh flavor without an overly grainy texture like common ground spices. Our mulled wine kit comes with whole spices and a razor-sharp stainless steel grater, so you get the benefit of using fresh, vibrant spices for every infusion you make. And with our mesh infusion bag, customize your own spice blend and avoid straining out small bits later. You'll end up with a balanced, crisp, warming drink that's just begging you to curl up under a blanket with a good book. 
So what are you waiting for? Grab the mulled wine kit and get going! 
Festive Red Mulled Wine Recipe
Ingredients
750 ml bottle of red wine
¼ cup maple syrup
1 dried orange slice
4 anise stars‌
6 cardamom pods, crushed
½ nutmeg, freshly grated 
Place your spices in a mesh bag and tie closed. 
‌Pour wine into a large saucepan and submerge your bag. Add maple syrup ingredients directly to the wine. Set the heat to low and simmer for 15 minutes. Don't let your wine come to a boil.
‌Once ready, turn off the heat and let sit for five minutes before serving.
Leave a comment