October 31, 2022
Biang Biang Noodles
Cumin Lamb & Cilantro Biang Biang Noodles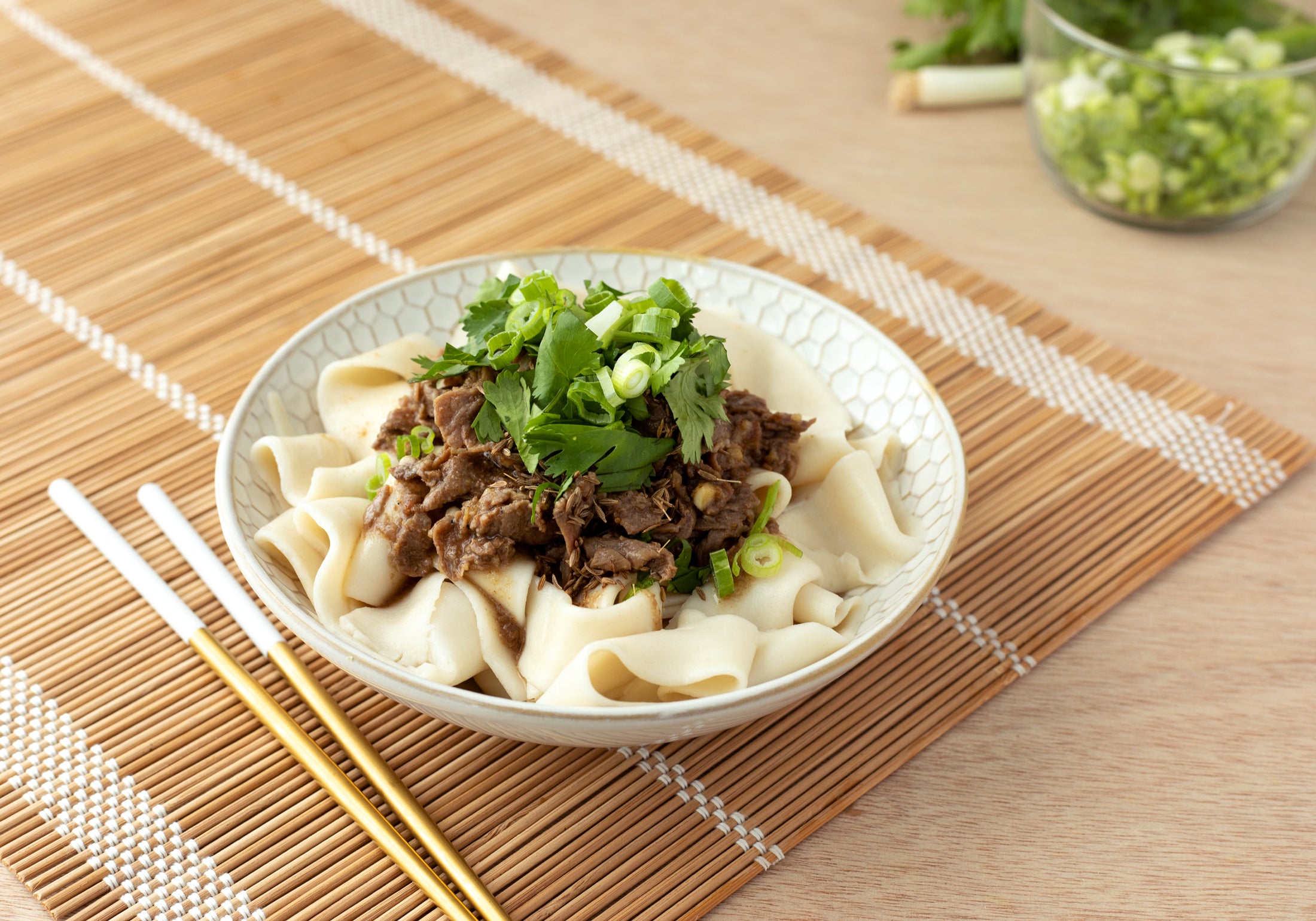 With a rich and savory stewed lamb, this biang biang noodles dish is perfect for a cozy night in. The flavors of Asia come together in this rich, flavorful stew. The cumin and extra ginger add a layer of complexity to the lamb, while the cilantro adds a note of freshness. When you pair it with our Hand-Pulled Noodle Kit, you've got an easy-to-make meal that will satisfy any craving for Asian cuisine.
Cumin Lamb & Cilantro Biang Biang Noodles
Servings: 2 
Noodles
2 cups all-purpose flour (no more than 3g of protein)
1/2 cup + 2 Tbsp. water (room temp)
1/4 tsp. salt
vegetable oil, for coating the dough
For a step-by-step photo guide on how to make Biang Biang noodles, head over to our detailed post here. 

Lamb & Sauce
½ lb fatty lamb shoulder or chuck (thinly sliced)
1 tsp. cornstarch
1 ½ Tbsp. vegetable oil
½ tsp. sichuan pepper
1 Tbsp. ginger, minced
3 garlic cloves, minced
1 tsp. sugar
1 tsp. rice vinegar
2 Tbsp. soy sauce
1 tsp. cumin, ground
¼ cup water

Aromatics
1 tsp. cumin, seeds
2 scallions, minced
¼ cup cilantro

Combine the sliced lamb with cornstarch and set aside.

Heat oil in a skillet over high heat. Add ginger and garlic and cook for 1 minute. Add the lamb and stir-fry until just browned and then add sugar, rice vinegar, soy sauce, and cumin. After a minute, add water to deglaze the pan and create a sauce. Salt to taste.
Distribute the aromatics and lamb equally between the two portions of prepared noodles. Pour hot sizzling oil on top to release the flavor.
Leave a comment