September 24, 2020
Mulled Wine
7 Gluhwein (Mulled Wine) Recipes to Get Your Festive Fix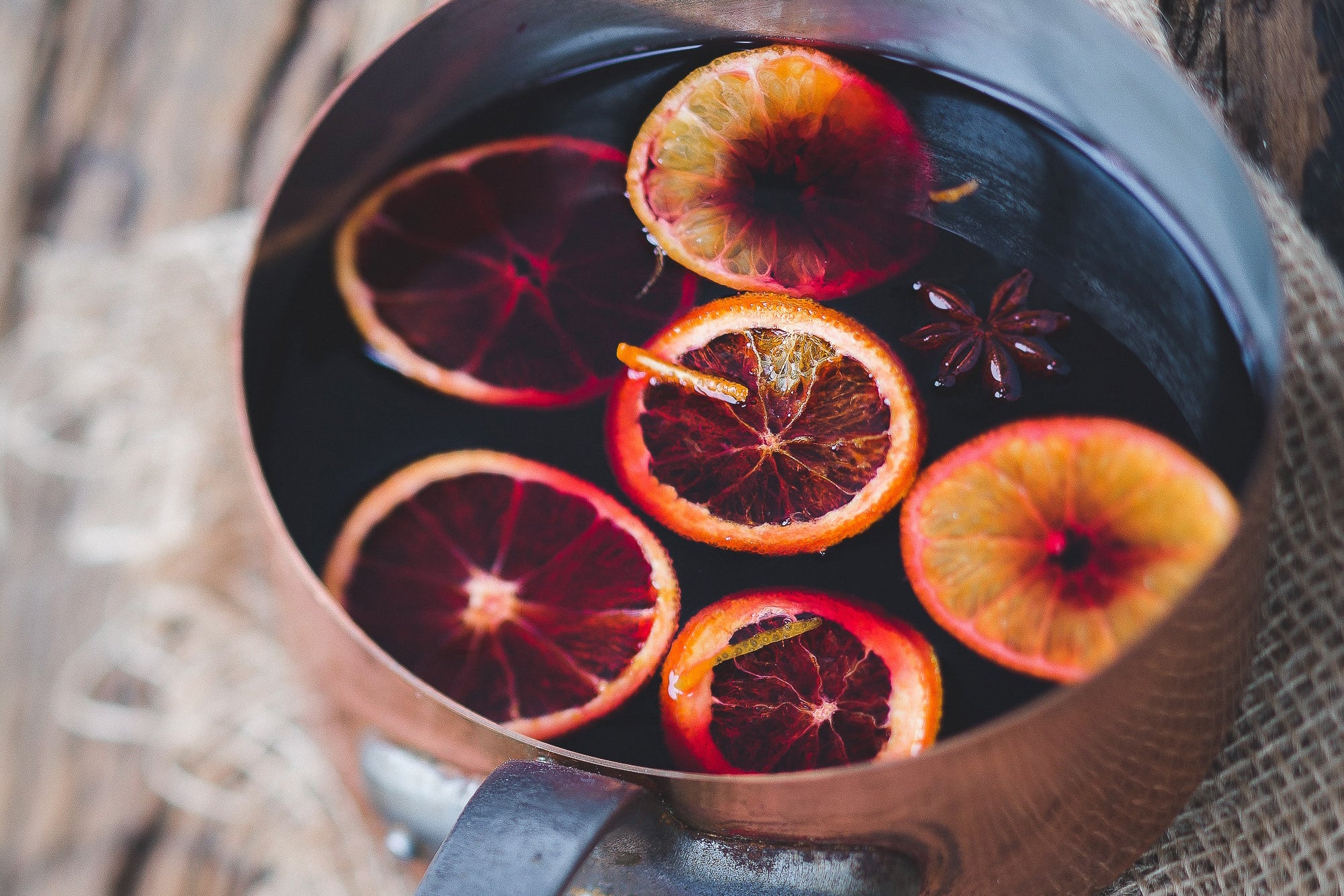 The word "mulled" simply means heated and spiced. It is thought that the process of mulling wine was first employed by the Romans as a way to save wine that was about to spoil.

As the Romans conquered much of Europe, the popularity of mulled wine spread across their empire and alternative recipes, like Gluhwein, developed over time. Below are our favorite Gluhwein recipes created by makers and chefs from all over the world. The simple process of mulling wine is relatively the same, but the end result depends on a unique combination of spices. You can get everything you need to create this classic holiday drink in this handy kit.
No 1. Orange White Mulled Wine
by Sugar Salted
750 ml(1 bottle) white wine
1 cup water
1 medium orange, juiced
1/2 cup white granulated sugar
2 tablespoons honey
1 organic orange, sliced
1 organic lemon, sliced
10 cloves
No 2. Appleberry Gluhwein
by BBC Good Food
2 x 750 ml bottles red wine (like Merlot)
1 cup good-quality cloudy apple juice
115g caster sugar
1 cinnamon stick, snapped in half
2 star anise 3 tbsp orange Curaçao or Cointreau
1 handful cranberries, or other forest fruits
3 small red-skinned apple sliced into rings
No 3. Blackberry Gluhwein
by The Buzz Blog
1 bottle red wine
5 California Giant blackberries
6 whole cloves
4 star anise pods
2 cinnamon sticks
2 juniper berries
2 oranges
1/4 cup brown sugar
No 4. Honey Mulled Wine
by Simply Recipes
1 750ml bottle of zinfandel
3/4 cup of water
3/4 cup of honey
15 black peppercorns
3 inches of cinnamon stick 
more sticks (optional) for serving
few thin peels of lemon zest for serving
No 5. White Glögg
by Modern Wife Style
1 bottle white wine (pino or blach)
1 dl (0.4 cup) light rum
1 L (4 cups) apple juice
2 tbsp sugar 1 orange - zest and meat
50 g (1,5 oz) fresh ginger, peeled and cut to small pieces
1 handful or two raisins 1 handful almonds, blanched*
3 Cinnamon sticks
5 star anise
15 whole cloves
25 black pepper corns


*How to blanch almonds: Blanching simply means removing the skin.
1. Bring water in a small saucepan to a boil
2. Place raw almonds in the boiling water and let boil for one minute
3. Drain them
4. Use your fingers to gently squeeze the almonds and loosen the skin from them
No 6. Pear & Ginger Mulled Wine
by Jamie Oliver Drinks (modified)
750 ml (1 bottle) white wine 
2 liters Cloudy apple juice
2 thumb-sized Ginger pieces, sliced
2 Ripe pears, sliced
2 Cinnamon sticks, plus extra to serve
4 Cardamom pods
3 tbsp Light brown sugar
4 limes - juice of 4 limes, zest of 2
No 7. Mulled Pineapple Rum
by Kitchenette Blog
6 ounces dark rum
2 ounces brandy
1 tbsp whole allspice berries
1 tbsp black peppercorns
1 tbsp whole cloves
2 cinnamon sticks
4 cups pineapple juice
1 vanilla bean pod, split in half lengthwise, seeds scraped out
Do you enjoy the fresh citrus punch of an orange white mulled wine or prefer the deeper flavors of blackberries and cloves?  Share your favorite Gluhwein ingredient or recipe in the comments below. 
Leave a comment