Kalbi Smoked Short Ribs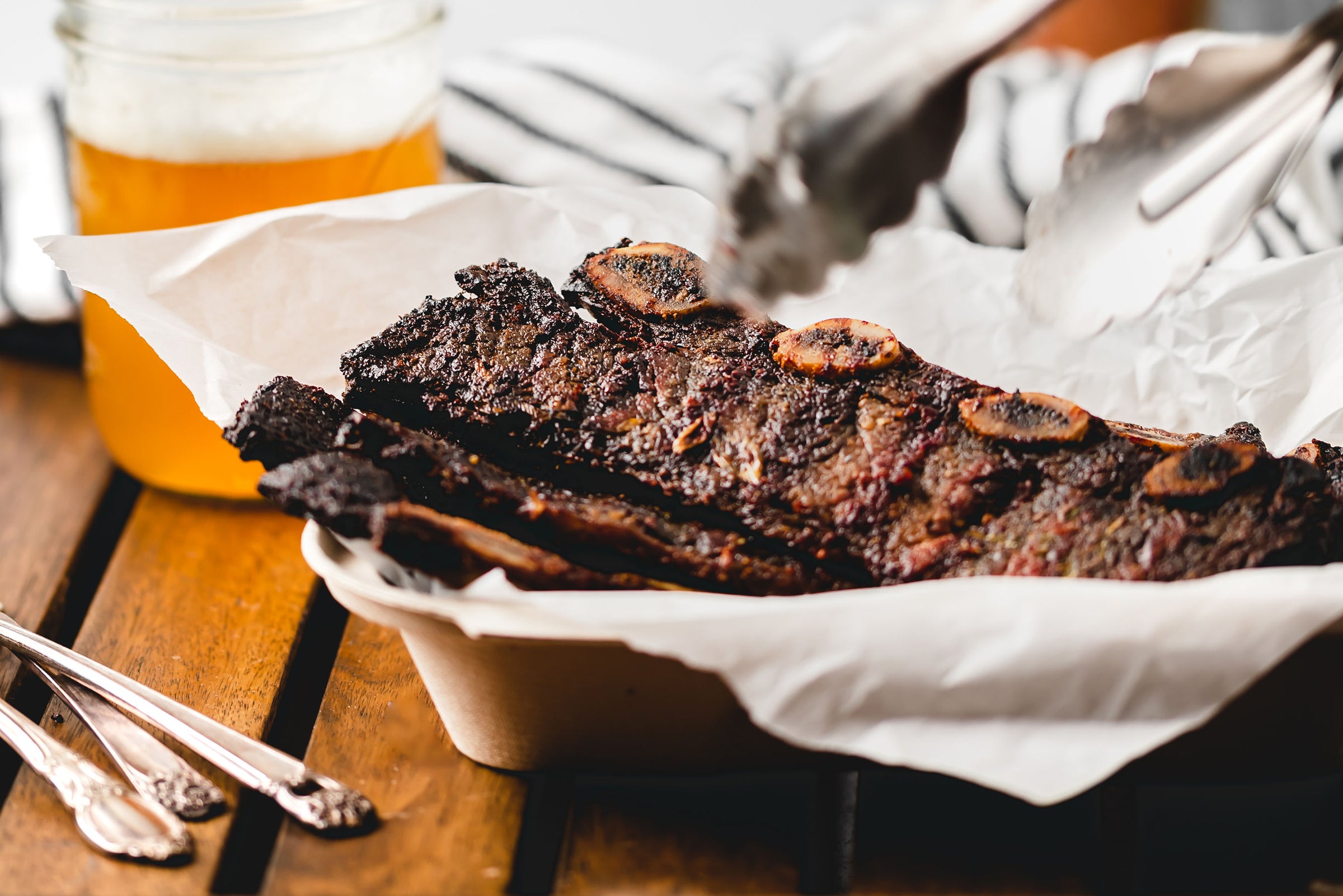 There are two different cuts of short ribs—thin cut referred to as Flanken (across the bone) and a thicker cut, referred to as English (along the bone). In deciding which cut to smoke, we ultimately went the nontraditional route, and chose Flanken.
Flanken short ribs are usually flash seared on a hot grill with sweet and tangy sauces from Hawaiian and Korean cuisine. We marinated our short ribs with a similar flavors and smoked low and slow on the grill to an internal temperature of 180°F. The results were a fall-off-the-bone tenderness, with that same punch of bright flavor. 
The marinade boasts traditional flavors such as, ginger, garlic, soy sauce and rice vinegar. But is balanced with brown sugar, pear and toasted sesame oil—giving a delicious sweet tang to the meat. Paired with a touch of smoke, these smoked short ribs took on a beautiful flavor that was elevated to new heights.
When making the marinade, it's easy to just combine all the marinade ingredients in a food processor, and then pulse until smooth (which we tried). But we found through mincing the ginger and garlic by hand, and also thinly slicing the scallion, there were bits of these flavor stories left on the meat while smoking. Normally this isn't possible in a hot sear because, those ingredients would immediately burn, but because the meat is smoked at a low temperature, these ingredients grow in flavor as they smoke, providing an additional depth of flavor that is truly special. 
Fire up the grill and enjoy!!
Kalbi Smoked Short Ribs
Ingredients
2 lbs beef short ribs, Flanken cut (thicker slices are best)
1 ripe pear, peeled, cored and roughly chopped
2 Tbsp. rice vinegar
2 Tbsp. dry white wine
2 Tbsp. toasted sesame oil
¼ cup brown sugar, packed
½ cup soy sauce
4 garlic cloves, minced
2 Tbsp. fresh ginger, peeled and minced
1 scallion, thinly sliced
Optional Garnish: scallion thinly sliced & toasted sesame seeds
Equipment
Stainless steel smoker box 
Hickory Wood Chips 
Meat Thermometer
(all included in our Wood Smoked BBQ Kit)
Step One: Marinate the short ribs
Pulse pear in a food processor until smooth. Add rice vinegar, white wine and sesame oil, and pulse until combined. Transfer to a medium mixing bowl. Whisk in brown sugar until fully combined and then gently stir in soy sauce. Stir in scallions, garlic, and ginger to combine.
Pour marinade over ribs in a large zip lock bag. Coat ribs evenly and remove as much air as possible before sealing the bag. Marinate in the refrigerator for at least 2 hours not exceeding 24 hours.
Step Two: Fire Up The Grill 
Twenty minutes before grilling, make sure your grill grates are clean and fill your smoker box with wood chips. Follow the next step below depending on what type of grill you have:
Gas Grill
Check your propane levels to make sure you have enough for 5 hours. Place your smoker box on the grill grate directly above the burner. Turn the burner on HIGH (400-500˚ F) and close the lid.

‌Charcoal Grill
Remove the grill grate. Stack the charcoal in a pyramid and ignite. When the charcoal is ashed over, bank the coals against one side of the grill. Place your smoker box directly on the coals or a low grill grate. Close the lid and adjust the top vent to be 1/4 open.
Depending on how hot the grill is, smoke should begin to rise in about 20-30 minutes. If the chips start smoking sooner, give them at least 20 minutes to let them fully catch. Once the smoke is established, reduce the heat and the keep the grill temperature between 250 - 300°F.
Step Three: Cook Low & Slow
Remove meat from marinade and pat dry with paper towels, leaving as many ginger, garlic and scallion pieces on the meat as possible. Place your meat on the grill on the opposite side from the smoker box. For Flanken cut beef short ribs, smoke the meat for about 3 to 3½ hours, and if time is available, one more hour. The former should get the ribs smoky and tender, while the latter will provide richer smoke flavor and even softer meat.
The most difficult part of smoking might be resisting the urge to lift the lid. Every time you peek, valuable heat and smoke escape. Open the lid only when you need to replenish the wood chips, about once every 1
½ hours.
Step Four: Check Meat Temperature & Serve!
Be sure to check the internal temperature to guarantee that the meat is properly cooked. Insert a meat thermometer into the edge of the rib on the side opposite the bone, careful to not hit the bone when taking the temperature. For the shorter cook time the meat should be at or a little above 170°F and for longer cook time they should be at 180°F or slightly above. 
Serve with crisp ice cold lager and enjoy!
Leave a comment