Ginger Miso Smoked Salmon on the Grill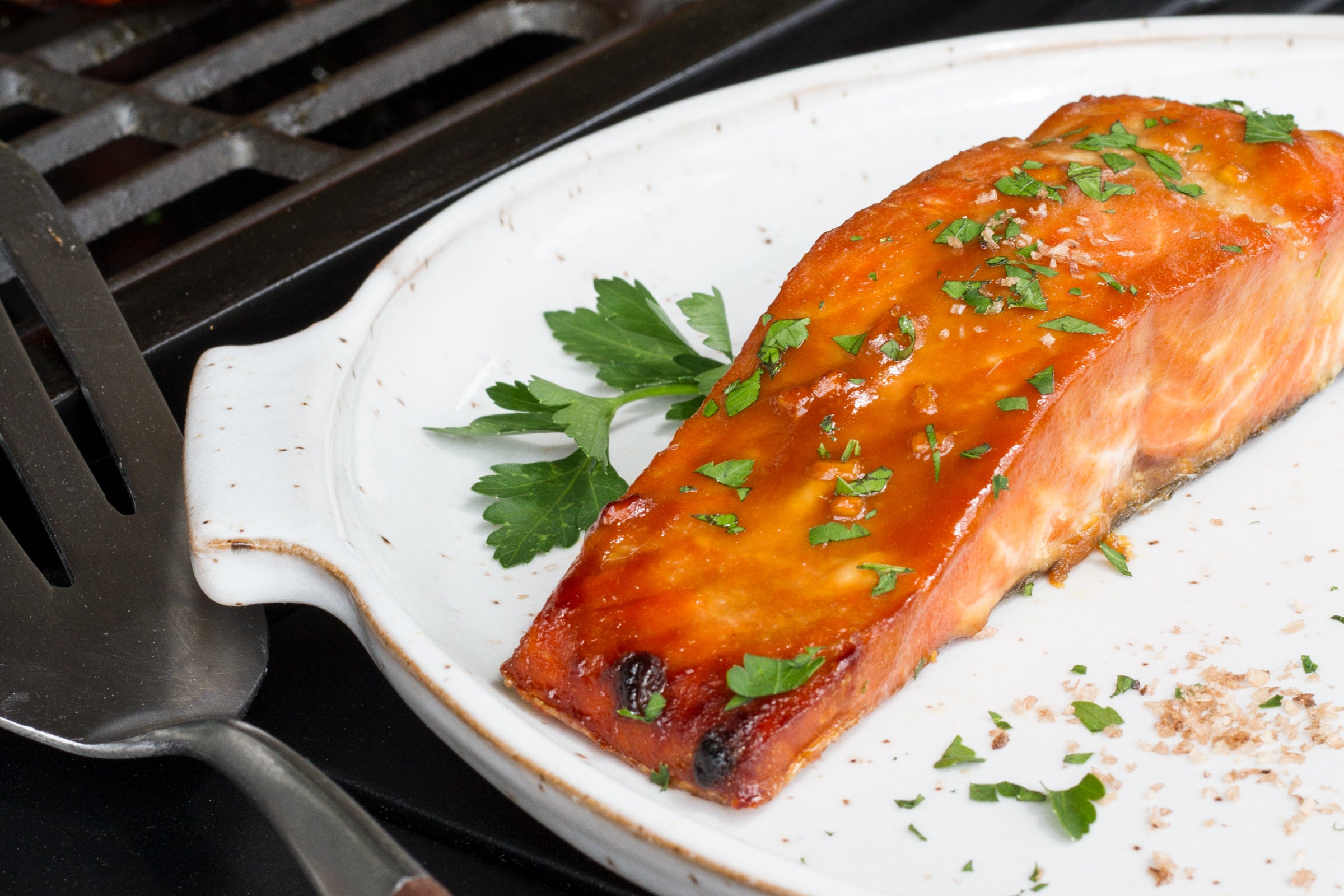 Alaska Smoked Salmon
I grew up in Alaska, in a small town called Eagle River. Around the same time every year, we'd haul our pop-up camper to spend a few days dip-netting for salmon. "Dip-netting" is exactly what it sounds like – my dad would wade into the river with a 4-foot net and catch the salmon that were returning to spawn. 
My childhood job title was "fish bonker." Like dip-netting, this was also precisely what it sounds like – my dad would bring the fish to shore, and I would club them on the head. It was also up to me to remove the eggs, tail, and head for easier transportation. As Alaska residents, our limit was 25 salmon per person, so from this one excursion, we would walk away with enough fish for the entire year.
When we got all the fish home, my dad would vacuum seal and freeze half. Then we would smoke the other half. I can still remember the taste of that salmon – smoky and sweet – with Alaska present in every bite.
From a very young age I was involved in every process of food preparation. It was fun and meaningful because we did it together as a family. I live in North Carolina now, and while I have outgrown my "fish bonker" title, my freezer is still stuffed to the brim with Wild Alaska Company fillets. I continue to love good food and the ritual of preparing it with loved ones.
Having mastered the basics of cooking, I love to further those preparations with a bit more creativity. As a home chef, it can be easy to settle into a comfort zone, which is one reason I started Cooking Gift Set Co. We wanted to invigorate and support imagination in the kitchen. While we won't ask you to "bonk" fish, we love inspiring you with other ideas for new culinary adventures.
A Sophisticated Smoked Salmon Update
Alaska wild salmon is rich, fatty, and full of umami – the essence of deliciousness. It pairs well with sharp or acidic flavors. Miso is a traditional Japanese food made by mixing cooked soybeans with a starter known as koji, itself a grain which has been inoculated with a fermentation culture, aspergillus oryzae. The mix is then left to ferment for months. Miso has a sweet, rich, salty flavor and is prized for its healing, nourishing properties. It is often used as a soup base, but as a paste it makes for an excellent salmon marinade. 
Lovers of Japanese cuisine will know that miso and ginger pair beautifully with salmon. This is every bit as true when you add an element of smoke to the mix – making a more sophisticated version of the salmon from my "fish bonking" days in Alaska. 
Preparing salmon with our wood smoked barbeque kit gives it an extra dimension of flavor. The fruity, crisp notes of apple wood as a base pair really well with salmon, but you could use other wood like hickory for more intense, smokey flavor. 
Recipe for Ginger Miso Smoked Salmon
Dry-brining your salmon is really important to lend your salmon the right texture and flavor.  

Ingredients
4, 6 oz. wild salmon fillets
Dry Brine
2 ½ Tbsp. brown sugar
1 ½ Tbsp. kosher salt

‌Glaze
1 Tbsp. fresh ginger, minced
2 Tbsp. miso paste
1 Tbsp. vegetable oil
1 Tbsp. rice vinegar
1 Tbsp. honey

Garnish 
Fresh parsley
Equipment
Smoker box
Apple wood chips 
Meat thermometer
(all included in our kit)
1. In a small bowl, mix the sugar and salt together to create the dry brine. Sprinkle this mixture over the tops and sides of the fillets – not the skin – and place in the refrigerator uncovered for 1 hour. 
 2. Mix the ginger, miso paste, oil, vinegar, and honey to create a glaze. Brush a heavy coat onto the salmon.
3. About 25 minutes before you're ready to start cooking, fill up your smoker box with dry apple wood chips and prep your grill:
If you're using a gas grill: 
Check your propane levels to make sure you have enough for your desired smoke time. Place your smoker box on the grill grate directly above the burner. Turn the burner on HIGH (400-500˚F), and close the grill lid.
‌If you're using a charcoal grill: 
Remove the grill grate, and stack charcoal in a pyramid and ignite. When the charcoal is ashed over, bank your coals against one side of the grill. Place your smoker box directly on the coals or on a lower grill grate. Close the grill lid and adjust the top vent to be 1/4 open.
Depending on how hot your grill is, you should begin to see smoke rising from the back of the grill in about 20-30 minutes.  If the chips start smoking sooner, give them at least 20 minutes to fully catch.
4. Smoke for 1 hour.‌ Check the internal temperature for 145°F to confirm that your fish is cooked. Finish with a garnish of finely chopped parsley.
You'll end up with an impressive dish that looks and tastes like it's from an upscale restaurant, with the satisfaction of knowing you made it, yourself. To me, the flavors recall my dad's salmon and those wonderful childhood days, but it also feels like I've made it my own. I hope you love it as much as I do.
Leave a comment